pig with a pinwheel.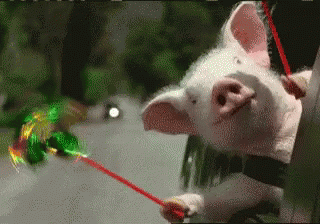 One of Cody's teachers had an activity today that required the students to pick a gif that they felt represented how they felt about going back to school. Cody picked this one.
It makes me so happy that both boys are enjoying their first week of school, virtual as it may be.
I wish I could say the same about my feelings. We are being told to use an entirely new teaching/learning platform that we have little to no training on as of now. It does not seem at all friendly to the user, especially if that user is an elementary aged student. Meet the teacher is Monday and live instruction starts on Tuesday. I think I cried three times today. Oh how I wish we could use Google Classroom, but it is not my call to make.
I am holding on to the pig and the pinwheel. I am focusing on the fact that the boys are off to a great year and I will do what I can to get my pinwheel moving, even if that feels like I am spinning around in circles.