To support Carter's Boy Scout Troop, we purchased a coupon card from him, as did several of our neighbors (thanks, neighbors!). It was one of those cards full of discounts, most of which you will never use and you fully know this going into the purchase. One of the "deals" was a buy $20, get $20 to spend at the restaurant/arcade Dave & Busters. For others, perhaps this is a deal, but since we never go to such places (ok, we have been once – it was loud, overpriced, and I vowed never to go again) I stand by my quotation marks.
On Tuesday we went. It was loud, although not due to the number of people (we strategically went on a Tuesday mid-afternoon), but due to the crash of color and sound each video screamed out at the passersby. I snapped a couple pictures of the games that caught my eye and completely give away my age.
Husband and I did one loop of the game area and then stood there, uncertain what to do next. The boys did not need us. They each had their own game card and were completely sucked in to the arcade abyss.
That was when I noticed the sign.
No one was there. It was glorious! Being frugal and still feeling the shock of the "deal" we used and then some to load up the boys' game cards, we did not want to actually pay to play pool, but as luck would have it, there was a shuffle board along the far wall. All six pucks were quietly sitting there. Waiting for us.
And so we played. First we played using rules we apparently made up somewhere along our lifetimes ago and had convince ourselves were legit. Then we took the time to read the gameplay rules that were politely posted on the wall and played the correct way.
We ordered beer from the bar and the boys played on. Around the walls by the shuffle board there were large black and white framed photos of serious looking people playing pool. Eyes narrowed, cigars clamped in tight lips, laser focused attention to the long played out games of pool. I thought they should have such serious pictures posted but of people playing shuffle board. Hands poised for long seconds over the sanded board as the puck slides to its final destination on the board, lips slightly pursed, eyebrows furrowed.
One of the faces in the serious pool pictures looked familiar, but I could not place him. Husband told me it was a young Burt Reynolds, shocked I did not recognize him.
Somehow our conversation turned to Reynolds' Playgirl days and Husband, ever one for facts and research had this picture pulled up on his phone when a woman and her two young children walked into the Billiard room.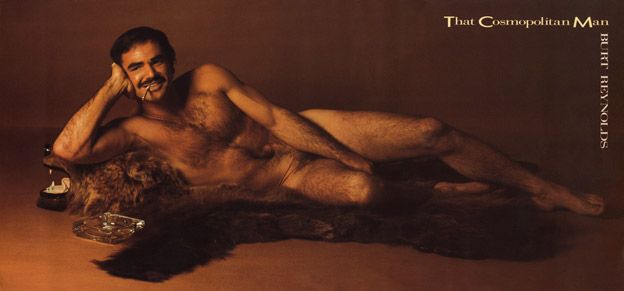 The woman nor her children noticed, but I found the whole thing to be hilarious.
Cody texted, wondering where we were but not really needing anything. Husband and I played another game, this time using our nondominant hand just because. We reluctantly observed that our quality of play did not seem to change much.
Eventually the boys' money ran out and they tracked us down. We spent some time in the WIN store so they could spend their tickets and we were on our way.
All in all, it was a good time. If it had not been for the free, unlimited shuffle board, I probably would have a different opinion, however.
Dave & Busters – still loud and overpriced, but that sounds like something a disgruntled old person would say, so I won't.